Firstly, apologies. I am aware that this Wrap Up is a tad later than usual. I offer no excuses other than that I was off gallivanting
in sunny Cornwall for a few days in an extremely beautiful area, albeit one with a somewhat medieval provision of mobile phone and WiFi reception. Being in one of the UK's so called 'not spots' has been extremely beneficial for my reading however so June has got off to a flying start without the usual distractions of Facebook, Twitter and YouTube.
Whilst in Cornwall, I also had the pleasure of meeting Marie Phillips, author of the bestselling 'Gods Behaving Badly', to talk about her latest book 'The Table of Less Valued Knights', a light-hearted (and extremely funny) take on some of the mythology surrounding King Arthur. I hope to be able to being you a short Q & A with Marie and a review of her latest book very soon.
For now though, back to the round up of May's reading. I have already posted full reviews of Rowan Coleman's 'We Are All Made of Stars' and Laura Barnett's 'The Versions of Us', both of which I read this month, so I'll leave them out of my wrap up and you can follow the links to my full reviews should you so wish. A note on formatting also before I begin - rather than put a Goodreads link at the end of each review, I'm going to start linking to Goodreads from the book title to tidy the blog up a bit so just click the title if you want to find out more about each book I mention!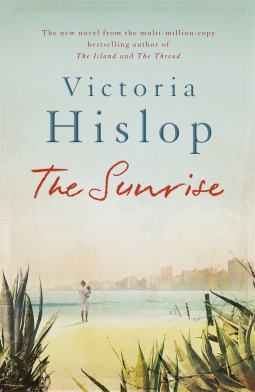 The Sunrise by Victoria Hislop
I received a NetGalley proof of this from publishers Headline in advance of the UK paperback release this month. Having read and enjoyed Victoria's debut 'The Island', I was really looking forward to this, her latest novel. Beginning in the summer of 1972, 'The Sunrise' tells the story of the inhabitants of the thriving holiday resort of Famagusta in Cyprus. The latest jewel in Famagusta's crown is The Sunrise, a luxurious hotel recently opened by entrepreneur Savvas Papacosta and his wife Aphroditi. But beneath the glittering facade of the hotel's opening, tensions are running high. Simmering political unrest has seen old battles between Turkish and Greek Cypriots re-ignite and, when these erupt into violence, the staff of the The Sunrise will be caught in the centre of world-changing events.
'The Sunrise' is clearly an extremely well-researched novel and I was fascinated to discover more about this turbulent period in Cyprus' history and the events leading up to the separation of the island. Unfortunately I just didn't click with some elements of the novel and found the book a struggle as a result. Because there is just so much history to be fitted in, the plot takes a while to really develop and, as a result, you're relying on the characters to keep you interested early on. Sadly,I found the main characters - Savvas, Aphroditi and The Sunrise's manager Markos - to be lacking in depth. Their motivations seemed simplistic and they each had one or two over-riding characteristics that dominated their personalities to the extent of making them quite unpleasant at times. There are also a LOT of characters in this novel - and a number of narrative viewpoints - so it was hard to keep track of who's who and to have a great affinity with any one person or perspective.
The book definitely picks up about the halfway mark, becoming much more pacy following the coup of 1974, which sees the characters scatter as their comfortable lives get drawn into the chaos of war. And, as with her earlier novels, Hislop has a wonderful sense of place. From her descriptions of cocktails on the hotel terrace at sunset, through her realisation of the the war torn streets of Famagusta, I could always envisage exactly where the action was taking place.
Overall, this wasn't my favourite of Hislop's novels and I do think it's someway off her best in terms of plotting and characterisation. It wouldn't put me off reading more of her work however and I'm sure it will be a book that a lot of people will take to their sun loungers this summer.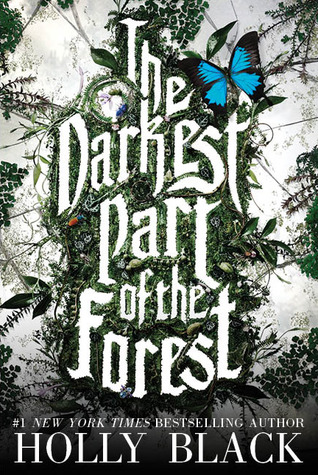 The Darkest Part of the Forest by Holly Black
I read this YA fantasy having seen it crop up on numerous blogs and vlogs. The cover looked great and the premise - a teenage brother and sister accidentally wake up a fairy prince who's been asleep in a glass coffin outside their town for a few hundred years - sounded ideal for someone raised on myths and fairytales. And, indeed, this is a dark, creepy romp which plays with a number of fairytale tropes and integrates them with modern youth culture. It is clear that Holly Black knows a lot about myth and fairytales and I really enjoyed her interpretation of the fae - who has more in common with the dark tales of The Brothers Grimm than with modern day fairies - and her switching of gender roles, with Hazel becoming the knight and her brother Ben playing more of a support role.
Unfortunately I found parts of the narrative really chaotic - there's a lot going on for a relatively slender book - and, as a result, I felt that there were a number of loose ends left unresolved. For example, much is made at the beginning of the book about the fact that Hazel likes kissing boys and breaking hearts and I thought this would develop into something. But it never does. Unless this is supposed to illustrate that Hazel is a normal teenage girl, I'm not sure why the author spends so much time telling us about this aspect of her character. This becomes really frustrating over time as so many of the elements which feel rushed have so much potential - I was itching to know more and ended up feeling unfulfilled. S
adly
'The Darkest Part of the Forest' didn't really do it for me but I am
going to try another of Holly Black's books - 'The Coldest Girl in Coldtown' - because I enjoyed her style and she's clearly an author with a lot of talent.
Mrs Pargeter's Principle by Simon Brett
I love a good cosy crime mystery series and the 'Mrs Pargeter' series by Simon Brett is one of my favourites. Mrs P is the widow of the late, great Mr Pargeter - a legend of the criminal underworld who did an excellent job of ensuring that his loving wife knew no more than she had to about his less than legal activities. As a result, he has left her amply provided for both in terms of money and contacts - Mr Pargeter's 'Little Black Book' being an invaluable source of former associates now running useful legitimate businesses. So when Mrs Pargeter discovers that one of her late husband's contacts - Sir Normington Winthrop - has passed away, she feels duty bound to attend his funeral and pay her respects. But why do none of Mr Pargeter's other associates know of Sir Normington? Why is Mrs Pargeter not allowed to contact his widow? And what does any of this have to do with gun-running in the Congo and the rise of a right-wing political organisation?
As with all of Simon Brett's books, this is an easy to read, cosy mystery. Previous readers of the 'Mrs Pargeter' series will be delighted with the return of the character and all of the series favourites are present and correct, alongside a few new faces. It's not a deep read and the plot isn't really the point but, if you want a light hearted crime novel with characters that will quickly feel like old friends and a touch of humour then you can't go wrong with Simon Brett. This is the seventh Mrs Pargeter novel and, whilst it can be read as a standalone, I'd recommend starting with the first book 'A Nice Class of Corpse' to get the most from the series. For fans of cosy crime, I can also recommend Brett's 'Feathering Mysteries' series, beginning with 'The Body On The Beach'.
So that was May - rather a mixed bag in terms of subject matter and responses but another good reading month. As mentioned earlier, June has started well with a couple of books read already. And as I'm off for the remainder of the week, I'm hoping to have made a good dent into my TBR before going back to work, starting with the Bailey's shortlisted 'The Bees' by Laline Paull. It was an excellent Baileys shortlist this year so I'm hoping to read all six titles over the coming months. I've also been recommended Kirsty Logan's debut novel 'The Gracekeepers' by several people - including my best friend - so I want to start that too.
As always, I would be interested in hearing what you've been reading in May, as well as your thoughts on any of the books reviewed above. You can leave me a comment down below or tweet me @amyinstaffs with your thoughts.
Until next time folks, Happy Reading!