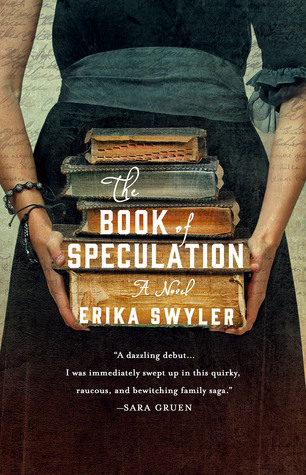 Simon Watson, a young librarian, lives in the crumbling remains of his family home on the edge of Long Island Sound. When he receives a mysterious book from an antiquarian bookseller, Simon is perplexed. Why does the book contain the name of his maternal grandmother? Why have all the women in his family died by drowning? And what does any of this have to do with the doomed romance between a mute fortune teller and a mermaid, two members of an 18th century travelling circus troupe? As his life unravels around him, Simon must unlock the secrets of the book before fate deals his family another deadly hand.
I was intrigued to read this debut novel, which has been likened to Erica Morgenstern's 'The Night Circus', as it seemed to offer an intriguing blend of literary mystery and magical suspense. So I was a bit surprised that I found it quite hard going initially. Simon was a hard character to like being by turns reclusive and then, when forced into interactions with other characters, belligerent. His sister Enola, the other major character, provides a sparky alternative to Simon but again alternates her personality wildly from headstrong free spirit to petulant child. I completely get that both characters have been screwed up by their shared past and the various tragedies that haunt their family history but they were, for me, kind of hard to empathise with as a result.
I greatly preferred Amos, the main character of the secondary narrative, which takes place in a travelling circus during the 18th century. Quiet, reflective Amos, who learns to 'speak' via the medium of the tarot cards he deals, struggles to balance his wish for friendship with his passion for the ethereal Evangeline. Amos is mute but Swyler does an excellent job of building his relationships with his mentor, friends and lover and developing the subtle aspects of his personality in a narrative viewpoint that is largely confined to Amos' headspace. The side-characters are also really well drawn in this books, with each of the circus folk having a definite personality. My favourites were Enola's boyfriend, the tattooed 'electric man' Doyle, and Madame Ryzkhova, Amos' fortune telling mentor, both of whom really came alive on the page.
In fact, the circus aspects were what kept me going with this novel. I quickly lost interest in some of the many subplots in this book, which vary from Simon's on-off relationship with his neighbour's daughter to his efforts to find a job and to preserve his crumbling family home. At times, there definitely felt like there was too much going on – as if Swyler wanted to delay the solving of the central mystery by throwing yet another obstacle into her characters' lives. However, the central narrative about Simon and Enola's family history, and its connections to the circus, is absolutely fascinating and did pull me through the slower sections of the book. Swyler has clearly done her research into circus life and, especially, into the specialisations of breath-holders and tarot readers and the allure of both these arts is deftly conveyed.
All in all, I did find that this was a book worth sticking with – I greatly preferred the second half to the first, with the story improving as it gathers pace and the central characters becoming more sympathetic as they develop and their secrets are revealed. I can definitely see the comparisons with 'The Night Circus', although I feel that 'The Book of Speculation' errs more on the realist side of magical-realism. That said, fans of Morgenstern's novel will find plenty to like if they take a gamble on Swyler's debut, as will readers who want a deep historical mystery with a touch of romance and are prepared to stick with the narrative through the slightly boggier sections.
The Book of Speculation by Erika Swyler is available in hardback now from all good bookstores. Thanks go to the publishers, St Martin's Press, provided me with a free galley copy of this novel via Netgalley in return for an unbiased and honest review.