Yes, I'm aware we are 9 days into August already. Time kind of ran away with me towards the end of July and, between spending a weekend visiting my best friend (and buying books - because eBooks don't count towards a book-buying ban right?), busy times at work and the usual chaos of daily life, suddenly - BOOM - we're a week into August and, just like the white rabbit from 'Alice in Wonderland', I'm late! July was a bit of a funny reading month for me. I don't really feel like I read a lot but my records show otherwise. I think I spent a lot of the month in a post-'Watchman' hangover so some of my other reads this month kind of passed me by a little. Either that, or I've just been more forgetful than usual recently! Anyway, my Goodreads list shows I read some really excellent books this month so, without further ado, let's move on to them!
Go Set A Watchman by Harper Lee
I've already written a post entirely devoted to Harper Lee's not-a-sequel in a previous post, so I won't discuss it at length again here. I'm aware that the novel has had some fairly bad press since release, particularly over is the US, but I have to say that I thoroughly enjoyed it. It's certainly not as polished a novel as 'To Kill A Mockingbird' but there is something about the raw intensity of Jean Louise's feelings that I really connected with. I also felt that the ending of 'Watchman' is less neat and less idealistic than that of 'Mockingbird', raising some difficult questions about the way that we deal with race and identity that are just as relevant today as they were at the time of writing. In
fact, the only thing I didn't like was the day glo orange cover we ended up with on the UK edition (above left) which gives equal prominence to 'Mockingbird', as if UK book buyers wouldn't have a clue who Harper Lee is without having a massive reminder of her previous novel on the cover. Seriously, why couldn't we have the classy US version (above right) which is gorgeous - all dark and blue and moody and a perfect reflection of the novel's tone? I know cover design is a carefully chosen thing so I'm sure the UK publishers had their reasons for tango-ing the cover but I still feel hard done by when I see the US version.
I picked this up after listening to the always excellent 'Hear Read This' podcast. It's recently been the Waterstones Classic Book of the Month and has also been re-jacketed and reissued by Penguin with a gorgeous travel poster artwork cover. Set in the summer of 1920, this slim novel follows Tom Birkin, a survivor of the First World War, as he travels to the country village of Oxgodby to uncover and restore a medieval wall painting. Once there he falls into the rhythms of village life, meets a fellow survivor of the trenches and even begins to fall in love. Gentle, poetic and poignant, this is a slim book that packs a powerful punch. It's a book about the small pleasures of life, about what is lost during times of trauma and about re-connecting with life following the horrific disorientation of the trenches. Elegantly constructed, this is one of those novels that stays with you long after you have turned the final page - even as I type this, I find myself returning to it turning over scenes and images within my brain and seeing them again in a new light. It is in no way a pretentious book but it has layers within layers, with the central themes of the burial and uncovering of the past repeating throughout. A beautiful novel and one that I would highly recommend.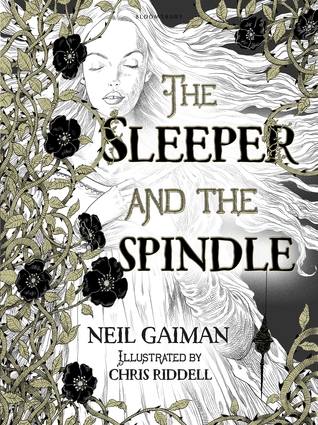 And the award for the most gorgeous read of the month goes to....! Seriously, this book is BEAUTIFUL - from the translucent paper on the cover to the hints of luxurious gold hidden within the stunning black and white artwork, the actual physical copy of this book is a beautiful item to hold and read. The fairytale within is not bad either - a darkly thrilling re-imagining of Sleeping Beauty and Snow White in which a princess is sent to sleep by a spindle, a curse spreads across the land and, in a neighbouring kingdom, a queen with snow white skin sets out on a quest on the eve of her wedding. Neil Gaiman has worked his usual magic on the traditional fairytale tropes, providing a Queen who will decide her own future and a Princess who is not what she seems in a delicious blend of the familiar and the new, all shot through with Gaiman's unique brand of dark comedy. The artwork by Chris Riddell deserves a special mention too - it's absolutely stunning and fits the story perfectly. I recommend reading this for the story first and then going back to the beginning to allow yourself to be absorbed in the pictures. If you're not a fan of Neil Gaiman's work already, I doubt that 'The Sleeper and the Spindle' will convert you but, if (like me) you enjoy his particular brand of twisted fantasy, then this is yet another winner. Plus did I mention it's absolutely gorgeous??!
Only Ever Yours by Louise O'Neill
I'd heard a lot of good things on both podcasts and booktube about this YA novel. Set in a future where girls are no longer born naturally but are instead bred in special schools, the novel has been favorably compared to Margaret Attwood's 'The Handmaid's Tale' (one of my favourite dystopians). And, indeed, the premise of this novel is fantastic and worthy of the comparison. In 'Only Ever Yours', the 'best' girls become Companions and will live with their husbands and produce sons. For those remaining, life in a sanctioned brothel as a Concubine, or hidden away forever in the schools as a chastity, are the only options. Consistently amongst the highest rated girls in their class, best friends Frieda and Isabel are sure they will become Companions to high-ranking men. But, as their final year commences, Isabel does the unthinkable and, as their future husbands arrive to choose brides, Frieda finds she must fight for the future that once seemed so secure. As I say, a fantastic premise but one that I do feel could have been executed a little better. Which is not to say that this is a bad book - the plot packs a punch and I think it handles issues surrounding the portrayal of girls and women in the media, eating disorders and the cult of celebrity very well indeed. That said, I personally found many of the main characters to be vapid and bitchy, with little to distinguish between them. I'm aware that this is partly the point - the intense social conditioning they undergo results in the girls becoming insecure emotional wrecks - but it's hard to like characters who are so self-absorbed and there was no one unlikable enough to be really interesting either. Maybe the comparisons with 'The Handmaid's Tale' did this one a dis-service for me - that's a pretty high standard to set after all - but I did find it disappointing in parts. I had such high expectations and, whilst the premise is extremely unique and packs a real punch, I just never really connected with the characters and this, for me, deadened the emotional impact of the plot.
Don't Try This At Home by Angela Readman
Short stories are something I keep promising myself I'll read more of but I often worry about the 'hit-and-miss' nature of a collection.Having been nominated for the Costa Award earlier this year and coming highly recommended by a number of my favorite bloggers, I decided to give this one a go and I'm really glad I did. This is a fun and sharply observed debut collection with hints of Angela Carter at her darkest. Some stories definitely resonated more with me than others - the title story, in which a girl saws her boyfriend in half to allow him to multi-task, was a real winner; as was the twisted fairytale 'When We Were Witches' - but there were no complete duds and the collection holds together very well, with a nice mix of lengths and a writing style that, at its best, sparkles with wit and dark comedy.
The Paying Guests by Sarah Waters
The second book I've read from the Bailey's Prize 2015 shortlist, Sarah Water's latest is a fabulous study of society, class and female existence set in the early 1920s. Genteel widow Mrs Wray and her discontented spinster daughter Frances are obliged to take in lodgers, a modern young couple of the 'clerk class', called Len and Lillian Barber. Their arrival brings new life into a house filled with post-war grief but it also brings dangerous desires that will have tragic consequences. A domestic drama with a sting in the tale, this is part love story, part crime novel and completely engrossing - despite being over 500 pages long, I stormed though it. Waters always writes beautifully and has a real gift for imbuing subtle tensions into seemingly innocuous activities. I found the class aspects really interesting and you get a real sense of the disintegration of the old social order and the changing face of British society, with the tension between the two extremely well portrayed. I did find the ending a bit disappointing - without giving away spoilers, it seemed to provide a last minute 'get out clause' for the characters without resolving the central moral dilemma. This is a relatively minor niggle in an otherwise excellent novel however. Another Sarah Waters triumph and one that I would highly recommend.
So, that was July. As I said, I read a lot despite the pre-'Watchman' anticipation and post-'Watchman' fug! I'm hoping that August will be equally productive - I'm currently tackling Hanya Yanagihara's much-hyped 'A Little Life' (so far living up to the hype completely), alternating with Patrick Rothfuss' fantasy epic 'The Name of the Wind', and I've got a fairly wobbly TBR pile crying out for my attention too so I'm not short of next reads! As always, I'd love to know what you've been reading recently and your thoughts on any of the books I've mentioned today so please leave me a comment down below or join the bookish chat on Twitter @amyinstaffs. And, until next time...
Happy Reading!
x