I am aware that this wrap up is extremely late. What can I say? 2016 just kind of crept up and surprised me. One minute it was Christmas and seemingly endless days of lazing around eating mince pies and reading books, the next I'm back at work and running to stand to still whilst simultaneously trying to shake myself out of a Christmas-induced fug.
To be honest, December wasn't the busiest of reading months anyway. The craziness of Christmas preparation massively ate into my free time so I generally stuck to shorter books until after the big day itself. Which is not to say there weren't some excellent books in there, as this wrap up will now hopefully show.
Thérèse Raquin by Emile Zola
I decided to get a head start on my real-life book club choice for January and read it in early December. My main reason for this, if I'm completely honest, was because I felt that the book sounded a little dull and I'd also heard that Zola could be difficult to read. And, given that the story revolves around the titular anti-heroine's affair with her husband's friend and their subsequent murder of said husband, it didn't exactly sound like festive reading either.
Thérèse Raquin therefore came as something of a surprise. Whilst it's not exactly made me a convert to Zola, it was a more compelling novel than I'd anticipated. The claustrophobic atmosphere of the dingy backstreets of Paris is extremely well realised and, for me, it was in his descriptions of the city that Zola's writing really came alive. The characters and their motivations are similarly well drawn, especially those of tortured lovers Thérèse and Laurant whose lust spirals firstly into murderous rage before descending into madness.
Alas, I did just feel that there was far too much novel in this novel. The story drags interminably, especially towards the end when I felt locked into an endless spiral of reading about Thérèse and Laurant's guilt and all the ways in which their lust has turned against them. Considering that the central event of the novel happens about halfway through, that's a lot of moping around feeling guilty and depressed that you have to read in order to get to the end. The ending itself, when it arrives, is appropriately atmospheric and sinister but I could just have done with it arriving about 60 pages before it did. Not as dull as I'd feared but I'm not about to rush out and read 'The Ladies Paradise' either.
We Should All Be Feminists by Chimonda Ngozi Adichie
A short yet powerful essay, re-worked from Adichie's fabulous TED talk, which packs more punch than its slender 64 pages would suggest. Tackling the central question 'what does Feminism mean today?', this eloquent essay also covers inclusion, diversity and the harm caused by the gender divide in the modern world.Tackling both blatant instances of discrimination and the more subtle, institutional biases that can prevent female progress, Adichie manages to avoid so many feminist cliches whilst offering a powerful argument for a fairer, more equal world. Surprisingly funny, with a dry and observant wit running throughout, this is a powerful rallying cry and a call to arms for men and women alike.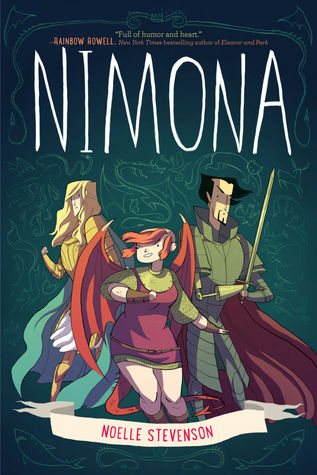 Nimona by Noelle Stevenson
I've wanted to read more graphic novels and comics for a while. I spent a summer in America some years ago and really got into Manga. When I arrived back in the UK however, it was really hard to get hold of Manga comics and the graphic novel was a massively under-appreciated and specialist genre. Most high street bookshops stuck to the well-known superhero stuff and the occasional cult piece, such as 'Maus' or 'Watchmen'. Fortunately, times have changed and there is now more recognition in the UK that great stories can be told via many mediums and that including pictures in a novel doesn't automatically mean it's for kids.
Part of this resurgence seems to have come from an increasing awareness of the popularity of web comics, one of which forms the basis for 'Nimona', which has been developed from a critically acclaimed web comic by Noelle Stevenson. The titular Nimona is a troublesome young shapeshifter with a knack for villainy. After offering her services to supervillain Lord Ballister Blackheart, the comic follows the dynamic duo as they attempt to prove that Lord Ambrosius Goldenloin and his buddies at The Institution for Law Enforcement and Heroics aren't quite as squeaky clean as they make out. Cleverly playing with well-known fantasy and superhero tropes, this is a story filled with wit, humour, true friendship and a gentle, old-fashioned romance. The graphic style is bright and vibrant, really complimenting the lively adventure story that is at the heart of this book. A strong return to the graphic genre, 'Nimona' has made me determined to discover more graphic and illustrated novels in 2016.
Murder at the Old Vicarage by Jill McGown
I do like to read something festive at Christmas. And what says Christmas more than snuggling up by the fireplace with a cup of tea and a good old-fashioned murder? Yes, there's something about Christmas crime that's oddly compelling. Which is probably why Waterstones championed this re-discovered piece of Christmas crime by Jill McGown. Originally published as 'Redemption', 'Murder at the Old Vicarage' is the second in McGown's Lloyd and Hill crime series and is a brilliant homage to the golden age fictions of Agatha Christie but with some decidedly modern twists.
In the usually sleepy village of Byford, deepening snow has isolated the inhabitants from the outside world. As they prepare to settle in for Christmas, the snowy peace is destroyed by a sudden and violent death, prompting the arrival of DI Lloyd and DS Hill. As Lloyd and Hill struggle with a vicarage shrouded in secrecy, neighbourhood whisperings and more red herrings than you'd find in the average fishmongers, they are also beset with personal problems as their extra-marital affair spirals into new and previously unexplored territory. Combining the modern predilection for the personal affairs of our detectives, with the classic crime tropes of the locked room mystery and the 'cosy' village setting, this was a fantastic blend of old and new which I thoroughly enjoyed. I'd never heard of Jill McGown before but I'll definitely read more Lloyd and Hill novels, which I hope will get a more general re-issue (they currently seem to be more readily available on Kindle than as paperbacks), allowing her work to be re-discovered by other crime fans.
So, that was December - a pleasant mix of new genres, old favourites and a bit of festive-themed reading. As January is well underway, I'm already well into my 2016 reading and will be back soon with some reading resolutions for the year. As always, I'd love to know what books you've been reading over the Christmas period and what you are hoping to get round to tackling as we progress into a brand new year. You can leave me a comment down below or tweet me @amyinstaffs if you want to talk books, discuss this blog post or just have a general chat.
Happy Reading! x