January has been a really frantic month for me. It's always a busy time of year in the day job so I seem to have to admit to having felt as if I've been living at the office for a good portion of the month. It's therefore been a real challenge to stay focused and keep motivated on my reading. Even for an avid book nerd like myself, it is all too easy at the end of a stressful day to choose vegging out in front of the TV or catching up with some Youtube videos over actively engaging with a book. Fortunately, I've had some good books to keep me on track and managed to keep my reading goals and resolutions at the forefront of my mind – those 75 books aren't going to read themselves! I was also boosted by taking part in the #AYearAThon Readathon challenge, which ran from the 4th – 10th January; the theme of which was 'Benchwarmers' (i.e. books that had been sitting on your shelf for over a year) and, as a result, got two books – both of which I've been meaning to read forever – finished in that week alone. The first of which was…
The Subtle Knife by Phillip Pullman
Finally! I've had this on my TBR for about 10 years now (since I first read 'Northern Lights') and have picked it up and put it down again on countless occasions. With the help of the absolutely gorgeous combined Everyman edition and the #JenandHollyHDM readalong on Twitter and Booktube however, I have finally got to the end of the second book in Pullman's epic fantasy series. Having now finished the book, I can see why I've previously found it so hard to get through.
Following the dramatic climax at the end of 'Northern Lights', the start of 'The Subtle Knife' seems slow and, if I'm being honest, just a little bit dull in places. There's a lot of world-building at work here, with Pullman pulling together the many strands that are going to move the trilogy from just being Lyra's story (as it is in 'Northern Lights') into an epic adventure encompassing many different characters across a number of different worlds. Get over that initial shift of pace however and the story really gets going, turning into a genuinely dangerous and complicated mixture of power, politics and a fight to define the future.
By the end of 'The Subtle Knife' I was absolutely gripped and I cannot wait to finish Lyra and Will's adventures in the concluding novel 'The Amber Spyglass'.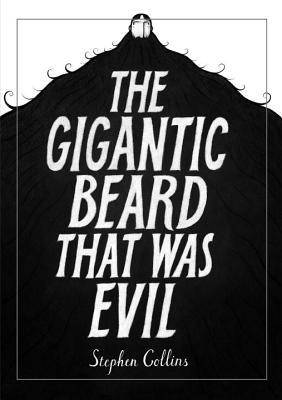 The Gigantic Beard That Was Evil by Stephen Collins
I have long admired Stephen Collins' astute and amusing cartoons in The Guardian's Weekend magazine. His art style is simple and clean but very effective in getting across a point, and he has an acute sense of the absurd that puts an extraordinary spin onto ordinary events. So when I found out at that he had released a graphic novel, I thought this would be a good place to start in my quest to read more in this format through 2016. Plus it has the most amazing title ever – who in their right mind wouldn't buy a book about a gigantic evil beard?!
The book is a beautiful chunky hardback filled with Collins' fabulous black and white pencil drawings. The story revolves around the inhabitants of a place called Here. Here is neat, ordered, beardless. Everybody knows what is expected of them and everyone does exactly that. Surrounding here is an unknown place called There. There is the home of disorder, untidiness and unpredictability. Everything that Here is not. Which is why it is so frightening when, one day, ordinary resident of Here Dave, bald except for a single hair, is assailed by a beard. A terrifying unstoppable beard. Where did it come from? What does it want? As the residents of Here struggle with these questions, the reader is invited to examine how we treat those who do not conform to social norms, the right to free expression in society and the role of creativity in our lives.
Dark, unusual and unique, this is a Roald Dahl-esque fable for the modern world. It's also about a gigantic beard so, seriously, go out and read it already.
A Window Opens (Audiobook) by Elisabeth Egan, read by Julia Whelan
It seems to have taken me forever to listen to this audiobook. It is by no means long (having a run time of 11 hours and 40 minutes) and is excellently narrated by Julia Whelan, who brings out the wry humour and acerbic wit at the heart of the novel. Similarly the story, which follows wife and mother-of-three Alice Pearce as she moves from a job as a part-time books editor to a full-time publishing professional with hipster startup Scroll, is, for the most part, light and easy to follow. So, if I enjoyed it (which, ultimately, I did), why has it taken my nearly three months to listen to this book?
I think it's probably because I really have to be in the right mood for this kind of book. Although well told, Elizabeth Egan isn't doing anything that hasn't been done before with 'A Window Opens'. Woman gets new well-paid job and becomes major breadwinner. Woman struggles with balancing work and home life. Woman becomes alienated from her family and friends. Woman re-evaluates what is important to her. So far, so 'I Don't Know How She Does It', 'The Devil Wears Prada' and countless others.
Which is not to say the book is without substance – it does raise some genuinely interesting questions about the pressures of modern life, the intricate juggling of marriage, parenthood and work and the increasing demands that ever-connected modern businesses make on their employees. Alice is also, for the most part, a likeable narrator – although her passivity and tolerance towards her idiot husband Nicholas (who veers between supportive spouse, emasculated doormat and grade-A jerk), did have me shouting at the audio from time to time. I really loved the snide look at the modern workplace environment that is Scroll, a workplace that is replete with a buzzword for everything ('carbon-based reading material' anyone?), and the snarky take on some of the more unusual modern publishing trends.
Ultimately, I am really glad I listened to this – it's a fun and witty novel with a bookish twist on a well-worn theme. Interestingly, I'm not sure if I would have finished the book if I'd been reading a physical (sorry, 'carbon-based') copy but the narrator really added to my enjoyment and it was an easy audio to dip in and out of when the mood took me.
Elizabeth is Missing by Emma Healey
Another one that has been on my TBR forever now finally finished thanks to the #AYearAThon Readathon. So many people I know have raved about this book and, having finally read it, I can completely see why it has won so many admirers and garnered such acclaim. Healey inhabits the fractured and damaged mind of her mature protagonist Maud, who is struggling with the onset of a degenerative mental illness, with great skill and the bittersweet narrative voice is the real crowning achievement of this novel.
Sadly, I just didn't feel that the plot lived up to the promise of the characterisation. The 'twist' became obvious to me about a third of the way through the book and, whilst I understand that modern-day Maud would struggle to put the pieces together – the nature of her deterioration makes it increasingly hard for her to place her fragmented memories in order - I really struggle to see how young Maud, her parents and their lodger, failed to grasp exactly what had happened in the apparently 'mysterious' disappearance of Maud's sister at the time. Whilst the post-war 1940s setting felt otherwise very well-realised, I do find it hard to believe that people were really quite that naïve or the police quite so incompetent. I also found it frustrating that a number of actions from the past remain tantalizingly out of reach or unexplained at the novel's conclusion. Whilst this may well be in an attempt to show the ever increasing fracturing of Maud's mind, it's an annoyance in a novel where the plot was otherwise so apparent. All in all, I am glad that I read this book. The amazing way that the narrative viewpoint it handled makes it a worthwhile read and it is clear that Emma Healey is a very talented writer.
Whilst I don't think that 'Elizabeth Is Missing' is a 100% success, it deserves praise for its use of a mature narrator, its sensitive approach to mental deterioration and its well handled characterisation and, as result, I look forward to reading what Emma Healey comes up with next.
The Road to Little Dribbling by Bill Bryson
If I could make any writer into a national treasure, it would quite probably be Bill Bryson. I love most of his books, finding his writing to be a combination of gentle grumbling, informative fact and laugh out loud absurd. He has a real gift for capturing the surreal in a given situation and maximising the potential for self-deprecation and amusement at every turn.
In 'The Road to Little Dribbling', he turns his eye yet again on his adopted home country of Britain, returning to the territory that won him so many fans in 'Notes from a Small Island', first published some 20 years ago. As he takes another tour around this sceptered isle, Bryson looks at how Britain has changed since he first wrote about it (he thinks the NHS is undoubtedly better, a fact some may disagree with him on, but that town high streets have become mired in petty-minded saving cuts and chain stores, something most people wouldn't!) in his gentle, wry and occasionally grumpy way. As always, his witty insight into the foibles of British life and character ring true and make the book an easy and thoroughly enjoyable romp - a bit like taking an amble through familiar territory with an old and trusted friend. There's nothing here that Bryson hasn't done before but, when it is done as well as this, why change the formula? Welcome back Bill, long may you observe us!
Alive Alive Oh! by Diane Athill
Diane Athill's previous memoir, the sublime 'Somewhere Towards the End', remains one of my standout non-fiction books so I was delighted to learn she was releasing another volume as she approaches her 100th year. Yet again, this is a fascinating meditation on a life lived fully and the pleasures and perils of aging.
What always stands out for me in Athill's writing is her honesty –she covers every subject from sex and death, to gardening and friendship, with such refreshing clarity and her smooth, descriptive prose is a joy to read. Reading one of her memoirs is like listening to an old friend recounting an excellent story. If I ever get to be anywhere near 100 myself, I can only hope to be of a similar outlook and mindset to Athill. A real piece of reading pleasure at its best from an always fascinating woman.
So that was January, a busy month both on the reading and the non-reading front. It's been a great start to my reading year with some really excellent and varied books so I'm really looking forward to carrying on in a similar vein as I move into February. As always, I'd love to know what you are reading at the moment and your thoughts on any of the above if you have read them. You can drop me a comment below, find my on Twitter @amyinstaffs and also on Goodreads.I hope your January was a great start to 2016 and that your February reading is progressing nicely.