Yes, I am aware that we're halfway through March but I figured better late than never! February was a month of two halves for me. I started the month by rapidly reading the four really enjoyable books that form this wrap up. I then hit a slump about halfway through when I started 'Gold Fame Citrus', which was a worthwhile but somewhat sluggish read so have, as a result, read very little in the last ten days or so. As a result, my wrap up is slightly shorter for February than usual – but it's quality and not quantity that counts, right?!
The Midwich Cuckoos by John Wyndham
I'm not usually a huge reader of science fiction and, as a result, most of the classics of British sci-fi have passed me by. Having been drawn to Wyndham's work by my experience playing the PS4 game 'Everybody's Gone to the Rapture' (more on that in an upcoming post) however, I decided it was high time to experience his writing for myself, especially given that Penguin Books have just republished a number of his works in paperback with gorgeously illustrated covers.
The Midwich Cuckoos follows events in the sleepy English village of Midwich following the events of 'Dayout', a 24-hour period in which all of the residents fell asleep and, after which, all of the women find themselves inexplicably pregnant. Taking place both immediately after the events of the Dayout and then returning 9 years later, once The Children of Midwich have grown, the novel is a classic tale of aliens in our midst and the extent that a species will go to in order to survive.
I immediately liked the way that Wyndham combined an alien invasion with the conventional concerns of a quintessential 1950s English village. Whilst undoubtedly frightening and horrific in places, there is a wry humour running throughout the book, which works both to lighten the mood and also to provide a contrast between the warm humanity of the Midwich villagers and the cold otherness of The Children that they have unwittingly played host to. The book raises some interesting questions about how we perceive and deal with the 'Other', both as individuals and as a society, and the ending, whilst grimly inevitable, does not provide easy answers to these questions. Packing in a lot more than its slim appearance would suggest, 'The Midwich Cuckoos' is an enjoyable and thought-provoking slice of British sci-fi and I look forward to reading more of Wyndham's work.
Public Library and Other Stories by Ali Smith
Ali Smith is a writer who I have always heard praised but have never got around to reading despite having both 'The Accidental' and 'How to be Both' on my shelves. Having tried to begin her work in the past, I was put off by the lack of punctuation (Smith isn't a fan of defining speech in her work) and the occasionally diversion into the realms of the literary highbrow. Basically, I have to date found her work a little daunting.
However, with the release of this; her latest collection of short stories, I decided to bite the bullet and really give Ali Smith a go and I'm so glad I did. The collection, which celebrates the power of the written word and the importance of libraries, intersperses Smith's weird and wonderful stories with short interviews and quotations from famous types explaining the importance of maintaining and cultivating library services. The two mediums bounce off each other very nicely, with the stories providing a mirror to the interviews. The transformative power of words is an overarching theme, from the opening story in which a woman's struggle for expression results in her sprouting leaves to the amusing contrast between a complaint to customer services and the long-standing correspondence between two writers.
Smith's writing is very beautiful and I very much enjoyed her style, although it does sometimes benefit from a little careful unpicking to really get beneath the surface of the words to the meaning. This makes the collection one to dip into and out of, savouring each story rather than wolfing them down in one go. And I still really do prefer to have speech marks and a full range of punctuation as guidance when reading!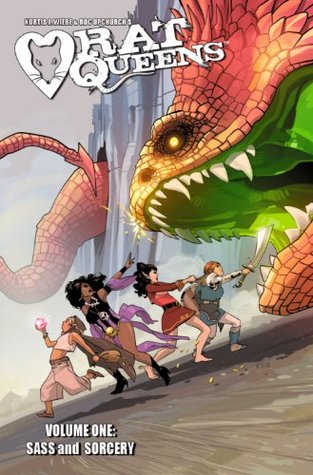 Rat Queens Volume 1: Sass & Sorcery by Kurtis J Wiebe
My quest to read more excellent graphic novels and comics continued this month with this fabulously funny fantasy, which combines Tolkien-esque questing and mythical beasties with a lot of swearing, sex and ass-kicking fun! The series follows Elven mage Hannah, Dwarven fighter Violet, atheist Human cleric Dee and rogueish Smidgen Betty as they uncover a conspiracy that could bring down the world around them and result in them being turned into troll doo-doo faster than any of them can down a pint.
Filled with wit, sass and, yes, a fair amount of sorcery, this volume collects issues 1 – 5 of the comic and builds the story nicely, introducing the reader to 'the Queens', their messy lives and loves and also to the wider world and story arc around them. The writing is quick, sharp and filled to the brim with adult humour, and the art style is colourful and active, with plenty to occupy the eye in each frame.
My first encounter with an ongoing comic series, 'Rat Queens' is definitely a step on from the YA realms of 'Nimona'. This is definitely an adult comic, with swearing, sex and violence aplenty – although it's never gratuitous and I loved how the characters stayed at the fore of the story at all times. I've already purchased Volume 2 (which collects issues 6 – 10) of this series and believe Volume 3 is too follow shortly. On the basis of the opening, 'Rat Queens' is definitely a series to stick with and I'm looking forward to joining Hannah, Vi, Dee and Betty on their next adventure!
The Tomb in Turkey by Simon Brett
I've spoken previously about my love of Simon Brett's cosy mysteries, which always provide an easy-to-read, welcome distraction from the trials and tribulations of everyday life. 'The Tomb in Turkey' is the fourteenth in Brett's 'Fethering' series of mysteries and follows laid-back, hippie healer Jude and her uptight, anxiety-stricken neighbour Carol as they take up an offer from the not-at-all-dodgy property tycoon Barney Wilmington to spend a couple of weeks in the sunshine at his luxury villa. It's not long before the intrepid duo stumble across a tomb that's far more recently occupied than it should be and, with a disappearing body and a personal vendetta to complicate matters, it soon looks as if Carol and Jude's holiday is going to be dangerous business!
As always, Brett's writing is fun, relaxed and wryly observant. Whilst the Fethering mysteries are never too taxing, there are a fair number of false leads and red herrings before the real culprit is revealed and, in 'The Tomb in Turkey', the whole thing is bathed in sunshine and a real sense of the summer. Another enjoyable read for fans of cosy mysteries from one of the modern masters of the genre!