It almost felt like I didn't read very much during the month of April but I appear to have still managed four books, in addition to 'Eligible' and 'The Midnight Watch', both of which I reviewed earlier in the month. There will also be a review of Garth Greenwell's 'What Belongs to You' going up at some point as I finished that today, just a little too late to be technically included in this wrap up. So apparently I've been more productive that I gave myself credit for!
Gorsky by Vesna Goldsworthy
I picked this up because it was featured on the 2016 Baileys Prize longlist. Of all the literary prizes, the Bailey's seems to most mirror my own reading tastes so I decided to give 'Gorsky' a go in spite of it apparently being a modern re-telling of 'The Great Gatsby', a novel I felt distinctly meh about when I read it at uni.
London dances to the turn of Gorsky's millions but the Russian billionaire himself is proving elusive. Until that is, he turns up in a down-at-hell bookshop to request that Nicholas 'Nick'

Kimović builds him the best private library in Europe. Drawn in by Gorsky's alluring power and enviable lifestyle, Nick is soon attending swanky parties, where the elite of British society rub shoulders with newly arrived emigres from Russia and the Baltics. And, at the centre of it all is Gorsky – his money, his palatial new home and his abiding love for Natalia, the Russian wife of one of his new English neighbours.
As you can probably tell from the synopsis, this is a playful reimagining of 'The Great Gatsby' and the characters survive their updating in surprisingly good shape. Certainly I found Gorsky's Natalia considerably less vapid than Gatsby's Daisy, and Nick himself is an interestingly dislikeable narrator with a unique outsider's perspective, both in terms of his class and his status as a Serbian immigrant, neither British nor Russian but a keen observer of both. All of the glitz and glamour of the original is here with a modern sprinkling of casual sex and even more casual drug abuse (both a little too casual and a little too frequent in my opinion).
So this is 'Gatsby' firmly re-located to the twenty-first century but with the addition of a knowing layer of contemporary concerns, such as the place of immigrants in modern British society and the increasing unaffordability of the London housing market for anyone who isn't a Russian oligarch. As such, it works very well – the writing is infused with the heady scent of extreme wealth and the characters' drift onto and off the page in a waft of affluence and ignorance. And that, unfortunately, is also the problem. If you have issues with 'Gatsby', as I do, you will have similar issues with 'Gorsky'. So whilst I could appreciate the updating, I still found the plot to be thin, the character motivations unconvincing and the majority of the action to be without any real substance. I imagine 'Gatsby' fans on the other hand will be delighted with what is, in essence, a charming and accomplished updating of the tale, with some modern twists.
First Class Murder by Robin Stevens
Another accomplished outing for schoolgirl sleuth Daisy Wells and Hazel Wong, this time playing homage to Agatha Christie's golden age classic 'Murder on the Orient Express'.
Following the events of the 'Murder Most Unladylike' and 'Arsenic for Tea', Hazel and Daisy have been taken on the Orient Express by Hazel's businessman father, who is determined to get them away from such scandalous situations and encourage ladylike (i.e. non-detective) behaviour. But when rumours abound of an international spy aboard the train, followed swiftly by the discovery of the body of one of the passengers, it isn't long before Daisy and Hazel are conducting a covert investigation once again.
This YA series is proving to be an absolute delight, with each instalment adding a little more depth to the central characters whilst also retaining the series' charm, humour and originality. Offering witty nods to the golden age of detective fiction, the series also manages to feel fresh and modern – quite a feat given it's 1930s schoolgirl protagonists and Malory Towers style main setting! Although the series' timeline is progressing rather slowly ('First Class Murder' takes place almost immediately after the events of 'Arsenic for Tea'), it will be interesting to see how Steven's grows her characters as the books progress - and with talk of war on the horizon in this book, I'm also curious to see if she takes them from the golden summers of the 1930s into the gritty environs of World War Two. Whatever Stevens chooses to do, I'll be there for more Wells and Wong adventures!
Under The Paw: Confessions of a Cat Man by Tom Cox
If you're not a cat fan, you might want to skip onto reading my thoughts on the second volume of Rat Queens because this book is a love letter to all things cat. If you are a cat lover however, read right on because you are among friends here!
Cox, a freelance writer and music critic, has written an entertaining account of the various cats who have been part of his life including his now 'famous' cats, The Bear (AKA @mysadcat) and Ralph (AKA @mysmugcat). Via a series of anecdotes, most of which manage to successfully tread the fine line between gentle sentimentality and mawkishness, he discusses his abiding love for his feline friends and how they have impacted on his life.
As a result, this is by no means the deepest of books but neither does it purport to be. In fact, 'Under the Paw' is exactly what it says it is – a series of recollections from one man about his cats, which is great for dipping into and out of when you fancy something that is gently amusing and easy to read.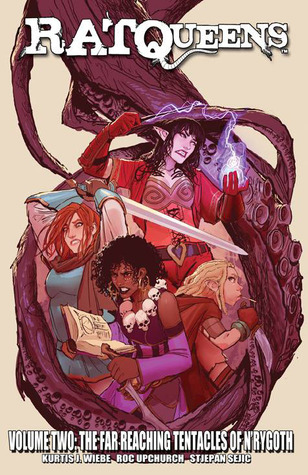 Rat Queens Volume 2: The Far ReachingTentacles of N'rygoth by Kurtis J Wiebe
A great continuation of a fabulous series, with all the wit, charm, sass and expletive-ridden action of the first volume. In Volume 2, the eponymous Queens are drawn further into the nefarious plot to destroy Palisade and the reader gets drawn further into their messy and complicated lives. We get a little more backstory about each of the characters (apart from Betty who is sadly underused for most of this volume), as well as the development of their relationships both with each other and with the more incidental characters around them.
All of which is great, apart from that there is a LOT of plot going on in this second volume, which can get a little confusing at times. I'm still not entirely sure if I understand what happened to Dee at the end for example, or what's going on with Hannah and her history and I'm hoping the answers to these questions, along with the others raised, will be answered in Volume 3.
This is however a very minor niggle in an otherwise excellent comic and I'm really looking forward to the next volume of this irreverent and anarchic series. If you haven't read it already then what are you waiting for – go order Volume On already!
So, that was my reading for the month of April. As always, I'd love to hear your thoughts on any of the books mentioned - have you read them? Are you adding them to your TBR? And do you have any recommendations for future books for me? You can either drop me a comment down below or find me on Twitter @amyinstaffs. So, until the next time...