So the first thing that might be noticeable is that this is not a wrap up post. I've decided to make a few changes to the blog and one of them is to ditch the wrap ups – I just don't feel they work as well on a blog as they do on BookTube and I wasn't enjoying writing them. So instead of reviewing every book I read in a given month in a wrap up, I'm going to do a few more reviews and themed mini-reviews (i.e. Summer Reads, Books for Halloween etc.) and then do a month-in-review post like this one in which I might make mention of some books I've read, what I've picked up that excites me and what I'm currently reading but which is more of a chat than a specific review. Don't worry however – there will still be lots of book based goodness throughout!
I think I bought more books in June than I read in all honesty. This is, in part, the fault of Independent Bookshop Week (see last month's post) which meant I just had to visit the lovely Booka Bookshop and buy all of the things, including a lovely little essay called 'The Gifts of Reading' by Robert McFarlane. I also bought a book for my Dad for Father's Day and a gorgeous Virago edition of 'Diary of a Provincial Lady' for my Nan as a birthday present. So there was some book-gifting going on in my life too.
June has however been a really good month for book releases. Sarah Perry's second novel 'The Essex Serpent', with it's beautiful deep green cover, called to me across the bookshop so that's now sitting on
my bedside table. And Clare North, author of the fantastic 'The First Fifteen Lives of Harry August' has her latest, 'The Sudden Appearance of Hope' out this month too. I also decided that I needed a little YA fantasy in my life and picked up my first ever Sarah J Maas books 'A Court of Thorn and Roses' and 'A Court of Mist and Fury' (because, of course, you can't just buy one in a series!). I've heard very good things about her 'Throne of Glass' novels but there are a lot of books in that now so this newest series seemed a little more accessible for a newbie.
On the reading front, after finishing both 'The Girls' and 'Shrill' for review, I took a break with another foray into Kurtis J Wiebe's excellent 'Rat Queens' series with 'Volume 3: Demons'. There was a (somewhat controversial) change of artist for this third volume but, once you get past the change of art style, the story remains strong and the characters as awesome as ever. And it's not like the new artist does a bad job – the art style is still amazing, it just is a little bolder and more colourful than the previous volumes. I've read that the series might be going on hiatus for a little while which is a shame – this third volume ended on one heck of a cliff-hanger so I really want to know what happens next! I might however pick up 'Lumberjanes' to fill the comic-shaped whole in my life in the meantime as I've heard only good things.
My real-life book club pick for the month was very different to 'Rat Queens' – Sunjeev
Sahota's '
The Year of the Runaways
', which was shortlisted for the 2015 Man Booker Prize. The tale of 3 Indian migrants (one illegal, one on a student visa, one on a marriage visa) trying to make it in modern Britain, this was a fascinating but unremittingly bleak read. When I picked it up, I thought it would focus on the hardships involved with being a migrant in the UK which, in parts, it does. However, I was really surprised by how long the book spends in India, examining the complexities of the caste system and the turmoil of religious and political unrest that lead each person to leave their country. It was a very nuanced tale that really exposed the complex nature of immigration – such a prevalent topic these days – and stripped away the headlines to show the humanity lying at the heart of the issue. By no means an easy read in terms of subject matter but I certainly feel more educated for having read it.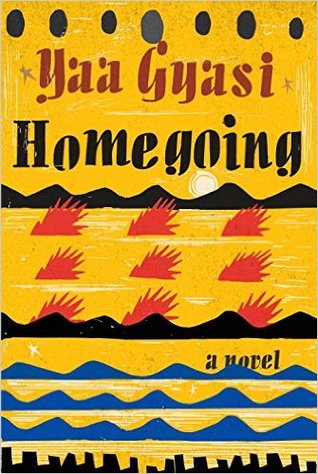 'Runaways' did leave me in a bit of a slump – it's one of those novels that takes a few days to digest – but I've recently started 'Homegoing' by Yaa Gyesi and am completely involved in her writing and in the story of two Ghanaian half-sisters, one who marries a
British slave-trader and one who is sold into slavery herself. The book follows their descendants in both Ghana and America through to the present day and has been super-hyped in Gyesi's native US. It's not due out until January 2017 here in the UK but (whisper it), Book Depository do have US copies listed for worldwide delivery. Patience not being one of my virtues, I succumbed to temptation and bought it. So far it's amazing so well worth the few extra pennies.
I'm also reading Lisa McInerney's Bailey's Prize winning 'The Glorious Heresies' which I picked up at the library. If I'm honest, I am struggling a little with it – the black humour is excellent and it's certainly got punch but I'm finding the characters a little hard to relate to. Possibly too much bleakness – I'm not over the Sahota yet! Early days however so I'm going to persevere as there is no doubt that McInerney's writing is very accomplished.
As for what's next on my TBR, well I don't want to keep 'The Essex Serpent' waiting too long but I also need to read a proof of Dan Vyleta's 'Smoke' (billed as perfect for lovers of 'Harry Potter' and 'His Dark Materials', neither easy shoes to fill) which hits shelves next month and I've got a hankering to get started on the Sarah J Maas. As always, too many books and too little time!
As always, I'd love to hear from you – if you've read any of the books mentioned or have any recommendations, or if you just want to come and talk books for a bit, then drop me a comment down below, tweet me @amyinstaffs or find me on Litsy @ShelfofUnreadBooks. And, until next time….