Summer seems to have finally decided to arrive here in the UK - and just in time for vacation season too. Following weeks of rain and 'highs' of 16 degrees, we've had an absolute heatwave with a full week (a week!) of sunshine and the mercury stretching into the upper twenties. You'd think the weather was making up for something - as if it's really sorry it's late and has decided to go that extra mile now it's here.
Being stereotypically British, all this sunshine has turned my thoughts in earnest towards summer reading plans. Whilst I am no longer fortunate (or young) enough to get the traditional six weeks summer holiday enjoyed by schoolchildren, students and their long-suffering teachers here in the UK, the summer is still a time when I like to set myself some reading goals and plan my vacation reading and there are certain books that I definitely feel have that 'summer reads' feel to them that I save for this time of year.
As mentioned in an earlier post, I am trying to complete a Books on the Nightstand Book Bingo card this summer. So far, I've marked off about five squares although alas, not five squares that line up and would give me a bingo! A lot of my 'required' reading (reviews, book club reads etc) haven't fitted my categories so far however some of the books on my summer TBR will probably fit into some squares and allow me to at least get a line bingo before the end of summer.
I also want to join in with The Readers summer group read of 'The Sympathizer' by Viet Thanh Nguyen, which is about a Vietnamese army captain with divided loyalties who ends up being a sleeper agent in America after the end of the Vietnam war. The books won the 2016 Pulitzer Prize for Fiction and it sounds like a rich and many-layered novel about a period of history I know little about. Not something I'd usually pick up for myself but I'm looking forward to hearing the podcast discussion and I think expanding your reading horizons and discovering new books is one of the major benefits of book clubs and group reads.
I'm having a late vacation this year, with a staycation to the Lake District booked for September. However, before then the hubby and I are having a long weekend away for his birthday in August when we'll be staying in a caravan on the Welsh coast. During both 'holidays' we plan to combine getting out and about with a good deal of chilling out, drinking wine and reading books so I've started setting a few titles aside that promise to be good holiday reads.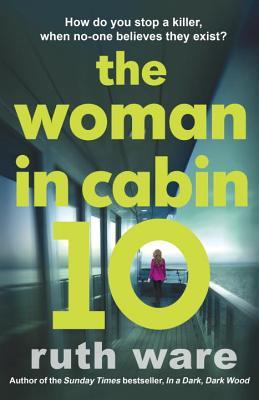 The first of these is Ruth Ware's latest thriller The Woman in Cabin 10 about a boutique
cruise that goes horribly wrong when a body is pushed overboard in the dead of night. Or was it? The passenger manifest shows no one to be missing but journalist Lo Blacklock knows what she saw and is determined to investigate. Billed as Agatha Christie with a modern twist, I'm looking forward to this one.
Along similar
lines, Sophie Hannah's latest Hercule Poirot novel '
Closed Casket
' will be released just in time for my September holibobs and is already on pre-order for my Kindle. I thoroughly enjoyed her first attempt at reviving Christie's classic sleuth in '
The Monogram Murders
' so I'm hoping this second book will be just as enjoyable.
I do like to take a big chunky book on hols with me - something I'd struggle to dedicate time to during the average working week's juggle of family and work life. There's a few contenders this year including Marlon James' 2015 Booker winner '
A Brief History of Seven Killings
', Ryan Gattis' novel of the LA riots '
All Involved
' and Iain Pears' genre-bending speculative fiction novel 'Arcadia'. I've also yet to find the time to pick up Jessie Burton's 'The Muse' or Sarah Perry's 'The Essex Serpent' so I imagine they might find their way into my packing at some point. And I do like to leave room for some non-fiction, with Virginia Nicolson's 'Perfect Wives in Ideal Homes: The Story of Women in the 1950s' at the top of my list.
All in all, I'm certainly not short of books to choose from but, in my mind, a summer read is one that I've been waiting to find the time to savour as much as it's something pacy or specifically set in the season. That said, the current sunny spell has seen me pull Joanna Cannon's 'The Trouble with Goats and Sheep' off my shelf as it's is set in the record-breaking heatwave of 1976.
I'd love to hear about your summer reading plans and goals.Do you organise your holiday reading in advance or are you an airport book buyer who takes a chance on whatever paperbacks catch your eye? Do you even have 'summer reads'? As always, let me know in the comments below or say hi over on Twitter @amyinstaffs or on Litsy @ShelfofUnreadBooks. And, whether you're partaking in any summer reading or not, until the next time...