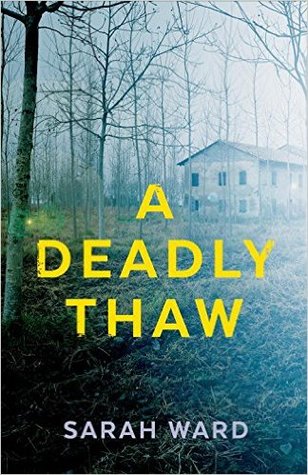 As a long-time fan of the British crime novel, I thoroughly enjoyed Sarah Ward's debut novel 'In Bitter Chill', which I reviewed on the blog last year alongside a Q&A with Sarah herself. Sarah's was an exciting new voice in British crime fiction, having used her experiences as a crime reader and blogger to shape a cleverly plotted, well-realised debut that bridged the gap between psychological thriller and police procedural and provided realism without too much gore – basically, the perfect formula for the sort of crime novel I enjoy!
When I did the Q&A I was excited to learn that Sarah planned to continue her series, set in the fictional Derbyshire town of Bampton, and to bring back her trio of detectives; DCI Francis Sadler, DS Damian Palmer and DC Connie Childs for a further novel, with the possibility of extending the series beyond this. I was therefore thrilled to receive an advance copy of her second novel, 'A Deadly Thaw', which takes place in the early spring, following on from the events of 'In Bitter Chill' by a couple of months. I really like the idea of using the seasons as a way of advancing the series and, in 'A Deadly Thaw,' Sarah continues to ensure that the weather and the overall sense of the season adds to the overall tone and atmosphere of the novel.
'A Deadly Thaw' opens with the discovery of Andrew Fisher in the long abandoned Hale's End Mortuary with a bullet through his chest. Unfortunately for DS Sadler and his team, Fisher was supposedly killed back in 2004, when his wife Lena was arrested, tried and convicted for suffocating him with a pillow. So who exactly did Lena kill and why would she lie about his identity? When Lena disappears, it's up to the team, along with Lena's sister Kat, to follow a trail of clues that leads back into the past but has dangerous implications for the present day.
As with 'In Bitter Chill', the novel is narrated in alternating chapters from the viewpoint of the police investigative team and the amateur investigation; in this case that of Kat, Lena's sister. This works well as it allows the reader to get clues from both sides of the investigation, which heightens the tension as each strand discovers new information that isn't always privy to the other side. It also results in a lot of cliff-hangers; which Sarah is an absolute master of – there were times I could have screamed at her for leaving off a chapter where she did!
The plot is also very cleverly weaved together, with multiple strands and plenty of red herrings thrown into the mix to distract the characters – and the reader – and keep you guessing right until the very end. It wasn't until the closing stages that I began to get a sense of whodunit and why, which is how I like my crime books to be – there's nothing worse than a thriller where you guess the twist halfway through! The plot is denser than in Sarah's debut however and I have to admit to getting a little lost a couple of times – the pace is so fast that I occasionally missed key information and had to double back to check who someone was or what they'd revealed when last interviewed but, for the most part, Sarah handles the multiple story threads very well and keeps them from getting too tangled whilst maintaining the mystery and tension.
Sarah also does a great job of fleshing out her detectives, adding meat to the bones of the characters she created in 'In Bitter Chill', and throwing in some further complications to their personal lives – which has left me waiting with anticipation for the next book! The great thing with this series however is that you can read each novel as a standalone. 'A Deadly Thaw' works equally well in isolation, with the case wrapped up fully at the end of the novel and the characters fully introduced at the start for new readers. And, for those crime fans who don't like detectives that come with more baggage than the average airport (like me!), Sarah keeps the focus on the crime and crime-solving, with the personal stories ticking away in the background and only occasionally coming to the fore.
Overall, I really enjoyed 'A Deadly Thaw' and it is a worthy successor to 'In Bitter Chill' and marks Sarah out as an author to watch on the British crime scene. The dual structure, clever central mystery and tightly woven plot gives the book real pace and dynamism making this a fast, thrilling read which ratchets up the tension without resorting to brutal violence or overt amounts of blood and gore. Definitely one for crime fans to put on their autumn TBR pile or their Christmas list - my only problem now is that I have to wait for Sarah to write book three!
'A Deadly Thaw', published by Faber & Faber, is available now in hardback and ebook from all good book retailers. My thanks go to the author and the publisher for providing an advance copy of the book in return for an honest and unbiased review.