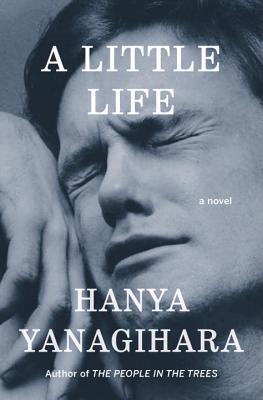 August has been a slightly in unusual month in that, other than reading 'The A to Z of You & Me' (my review of which you can find here), I read just one other book. That's right - one. I made it a good one though and there's definitely enough in this one for a lengthy discussion because my book of choice was 'A Little Life' by Hanya Yanagihara.
You may well have heard of 'A Little Life' because it's been getting a fair amount of press recently, especially since it was longlisted for the Man Booker Prize 2015. I first heard about the book some months ago when Anne Kingman and Michael Kindness dedicated an entire episode of their excellent bookish podcast 'Books on the Nightstand' to this novel, which Anne immediately declared as one of her reads of the year. Since then, the book has also been raved about by Simon Savidge of Savidge Reads (who has posted his own review and discussion of the book here), another blogger and podcaster whose opinions I value and whose tastes seem quite similar to my own. 'A Little Life' only came out in the UK in the middle of August so I picked up the US edition (pictured above), which has the amazing - and much talked about - 'orgasmic man' photograph on the front. Personally, I feel this cover gives a much better sense of what the novel is about than the UK version (pictured below), which makes out that it's a standard New York novel.
And indeed at the start of the book, you may well be fooled into thinking this is a standard New York novel. As it opens, the book introduces you to four college friends who have all moved to New York to try and make it big in their chosen careers. There's JB, a struggling artist, trainee architect Malcolm, would-be actor Willem (waiting tables whilst waiting for his big break) and lawyer Jude. So far, so cliche right? Wrong. Yanagihara cleverly weaves in elements of enigmatic back stories and tantalising glimpses of the future to add depth to each man's personality and, in these early chapters, you get a real sense of each individual character as well of of the life of the city itself.
As the book develops the focus narrows onto Jude, the most enigmatic of the four friends. Now a successful litigation lawyer, Jude's life appears to be one of sunshine and roses. He is incredibly successful in his job, has a gorgeous loft apartment in the city and is surrounded by devoted family and friends. Scratch beneath the surface however and Jude is one of the most damaged characters that I have ever come across in literature. This is where the book takes its now infamous turn towards the darkness, heading into harrowing territory as it delves in Jude's past, examining the many facets that make up his complicated, damaged psyche. It isn't a spoiler to say that this novel has trigger warnings for physical, mental and sexual abuse, child abuse, self-harm, suicide and depression. All of which makes reading it sound about as enjoyable as having teeth pulled.
Again you'd be wrong however. This isn't necessarily a book I'd say I 'enjoyed' - there are just too many harrowing moments for enjoyment to be the right word. I do however think that this book is extremely important. It constantly challenges the reader, making you confront assumptions about social expectations and obligations as well as about the ways in which we as a society respond to victims of abuse and violence. I have never really understood the psychology of self-harm and, despite having some experience with depression and anxiety, have always struggled to understand why some people would feel suicide was a valid option, especially if they are surrounded by people who love and care for them. This book makes you consider both these issues and the way in which you respond to them. It is both extremely impressive and also quite terrifying, to be made to walk a mile in a psyche as tender and damaged as Jude's.
This is not to say the novel is without it's flaws however. Whilst I do feel it needs to be a weighty book in order to absorb you fully into the lives of its characters, I would argue that it would benefit from an edit in places. There are a few times where key incidents are repeated - as if Yanagihara really wants to make sure you get the point - and I felt this was unnecessary given the harrowing nature of some of the incidents the first time around. I also felt that, at times, the book slightly revels in the misery that it inflicts upon Jude. Whilst I am sure that there are people who, sadly, can relate equally harrowing stories in real life, I did question the realism of the fact that every person Jude meets before the age of 16 is an abuser in some form. Equally unlikely is the fact that everyone he meets in adult life (with one notable exception) is unquestioningly loyal and loving. Add in the fact that, without exception, everyone in this novel becomes startlingly successful in their relative fields and you can see that there are some areas that start to brush the borders of believably, which is a great shame considering that Yanagihara has otherwise done such an excellent job of making 'A Little Life' feel so true, so honest and so very real.
These points aside however, I really did value the experience of reading 'A Little Life' and I would urge others to go and read it. It's an amazing book, one that is raw and real and just so, so human. That said, my recommendation would come with some warnings - this is a difficult book to read and is extremely dark in places. If any of the trigger warnings mentioned above are things that you don't like to read about, then you may want to stay away. Equally, this might not be the right book for anyone struggling with depression or grief because it is just so very raw in places. Beautiful and terrible in equal measure, 'A Little Life' leaves you thinking long after the final page has turned.
As always, I would love to know if any of you have read 'A Little Life' and your thoughts on the book if you have. And has anyone read any of the other Man Booker longlisted titles? I have 'The Chimes', 'The Illuminations' and 'A Spool of Blue Thread' on my TBR but I'd be interested to hear about some of the other nominees.
Next month should be slightly more business as usual. I have some holiday time coming up , most of which I intend to spend lying on a sunlounger reading, so am currently compiling a holiday reading list (more on that in the next post). And, after a short foray into a refreshingly light YA mystery novel, I am currently tackling John Burnside's somewhat disturbing novel 'The Dumb House' so I'll let you know my thoughts on that when I'm done. You can leave a comment below or find me on Twitter @amyinstaffs but, until the next time...