Ah, it's that time of year again. That hallowed, golden time I've spent so many months waiting for, counting down to and marking off the calendar. That's right, bookish friends, I'm off on my holidays to spend some time lying on a sun lounger reading books and drinking iced tea with a little umbrella in it. Try not to hate me too much.
Holiday time does bring with it a bookish dilemma however, namely the dreaded baggage allowance. I'm quite lucky to have a 23kg weight limit for my hold luggage however, once you've added the essentials like sunscreen and clothing, even the most generous of luggage allowances only allows for a limited amount of holiday reading. And so, the hardest part of packing begins...what books do I take on holiday with me?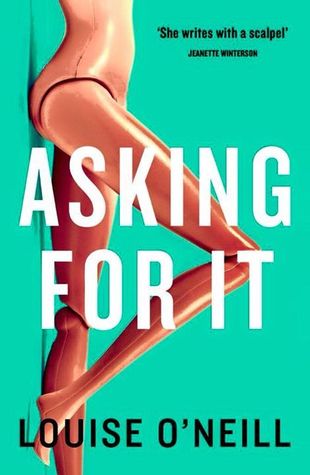 Clearly an e-reader can assist in this instance. And I am indeed taking my trusty Kindle with me on my hols. My Kindle is always loaded with a range of free classics, e-books versions of old favourites and random 'Daily Deal' buys from the Kindle store that sound interesting. For my
holiday, I've also treated myself to
a few recent releases that are
currently only available in hardback and would thus otherwise be completely unsuited to holiday packing. So I've got Kirsty Logan's '
The Gracekeepers
' to look forward to, Claire Fuller's '
These Endless Numbered Days
' and Louise O'Neill's latest '
Asking For It
', which seems to be all over Twitter and Booktube right now. Between these three and all the other stuff loaded on there, I'm not going to run out of reading material so problem solved right? Surely the answer is to just take the Kindle on holiday with me.
Wrong! Whilst I know a lot of people probably just take their e-reader on holiday, I'm always a bit worried that's a little 'all your eggs in one basket'. What if it breaks? What if I drop it in the pool on day one of the holiday? Plus, if I'm honest, I just don't enjoy the experience of reading on an e-reader as much as I do a proper, hard copy, physical object book. I like a nice chunky paperback that I can break the spine of and flick through the pages, that can can bits of sand between the pages and that can be left temptingly on my sun lounger to lure me back to it after a swim. E-readers, convenient as they are, just don't have the same appeal.
So I'm back to the dilemma of choosing books. Given that I do have the three on my e-reader, I only want to take 4 or 5 paperbacks. Two slots are already taken with books I've been saving for my holiday - a proof of Margaret Attwood's 'The Heart Goes Last' (which I am SO excited to read - that will be book one, devoured at the airport I think) and Michel Faber's 'The Book of Strange New Things', which I started earlier this year when I borrowed it from the library but put aside until it was out in paperback and I could properly sit down and digest it. I also like to take a non-fiction book with me in case I get fiction fatigue and am weighing up either 'Sapiens' by Yuval Noah Harari or 'Heirs to Forgotten Kingdoms' by Gerard Russell, which is about disappearing middle-eastern religions and the people who practice them. At the moment, I think the Russell is winning if only because 'Sapiens' is massive even in paperback format.
Which leaves two slots left. And about 6 books in the 'maybe' pile. I like to take a range of genres and book types because I never really know what reading mood I'll be in when I've finished my current book - so I generally have a TBR ranging from pacy genre fiction
through to more literary offerings. I've been really impressed by the 2015 Man Booker longlist so have under consideration a copy of '
A Spool of Blue Thread
' by Anne Tyler and also '
The Chimes
' by Anna Smail, both of which I have heard only good things about. Peter Nichol's '
The Rocks
' has been on my TBR for a while and does seem to have a summery vibe about it, being set in a Mediterranean
villa - I do love a holiday read that it set somewhere warm and sunny. Everyone I know seems to be recommending Eleanor Ferrente's '
My Brilliant Friend
', also set in the Med, but it is the first of four so I'm worried about taking it and then being bereft of the other three books. Then there's '
The Street Sweepe
r' by Elliott Perlman, which my mum bought me for Christmas following a strong recommendation from a book-selling mutual friend and which I set aside for a time when I could really appreciate it - a time like a nice holiday. Basically, I'm changing my mind on an almost daily basis and am rapidly coming to the conclusion that I'd be a rubbish book prize judge. I'll probably end up just doing 'eeny meeny miney mo' and choosing them that way.
Does anyone else suffer from this problem? I'd like to know if this is a general bookish problem or just me and my book hording getting out of control! And has anyone read any of my holiday 'to-reads'? I'd welcome any suggestions for a great holiday read, or help in choosing my final book list! Feel free to tweet me @amyinstaffs, or leave a comment down below with your thoughts. In the meantime, I'll be upstairs surrounded by empty packing cases, a pile of books and an increasingly irate husband...
Until next time folks, Happy Reading!