As I mentioned in my last post, I've just spent an extremely enjoyable ten days soaking up the sunshine of the Mediterranean. After many deliberations, I did manage to come up with a holiday reading list and, having done little more than swim, sunbathe, eat and read for the last 10 days, I managed to get through a fair amount of the books I took with me. Rather than include them in an end-of-month wrap up, I thought it would be better to have a separate post just for my holiday reads, to avoid either post being over-long.
A Spool of Blue Thread by Anne Tyler
I kicked off my holiday with this Man Booker shortlisted novel about three generations of a Baltimore family. As Abby and Red Whitshank grow older, decisions must be made about how best to look after them. As their four children descend on the family home, the novel unwinds backwards through three generation uncovering the secrets, tensions and everyday moments that make the Whitshanks the family who and what that they are.
This is a quiet and reflective family saga so, if you like plenty of action and pacing this isn't going to be the book for you. If you're happier with a slower pace however, this is an absorbing book with some beautiful writing. I've never read an Anne Tyler novel before but I understand that she's often praised for her characters and, having read this novel, I can see why. Her characters are all fully-realised with all their curves and edges in place. Everyone stands out on the page and, despite there being a fairly large cast, you never lose sense of who is who or what makes them unique.
This is a novel about the nuances of family life and an insight into the little things that make up an everyday family. That does mean that it isn't plot heavy although I found that there was enough there to support the characters and allow them to develop and move forwards. The title of the novel reflects the content very well, with the saga of the family unraveling backwards like a spool of thread as you read. My only slight disappointment was with the ending which sort of just peters out, without any sense of resolution or climax. Whilst this does fit with the overall narrative style, it does leave the reader a little adrift after the final page has been turned. Overall though, this was a great start to my holiday reading - gentle, well-realised and insightful.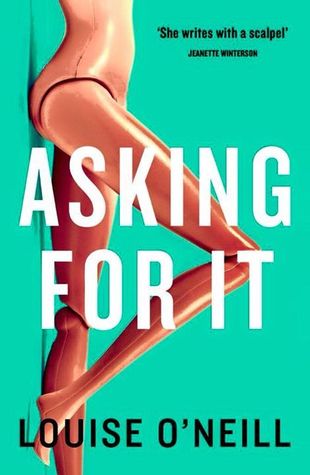 Asking For It by Louise O'Neill
Eighteen year old Emma O'Donovan is beautiful, happy and confident. One night she goes to a party. All eyes are on her. The next morning she wakes up on the front porch of her house with no memory of what happened or how she got there. Then she checks social media and she sees the photos, the explicit detail of what happened the night before. Suddenly Emma is at the centre of a scandal, creating ruptures within her family, friends and community at large. Because can it be rape if you don't remember what happened?
O'Neill's second novel, the follow up to the widely successful 'Only Ever Yours' (reviewed by yours truly here), packs a powerful punch. It's a brutal look at the divisive issue of consent in the social media age and, as such, does come with trigger warnings for rape, as well as for drug and alcohol abuse. What makes 'Asking For It' so good is the character of Emma herself. Emma is not a nice girl - she's manipulative, self-absorbed and vain and, in the heady heat of summer, rapidly going completely off the rails. Emma's character, and the decisions she makes, complicate the issues at the centre of the novel - does it matter that she deliberately wore a short dress? That she was drunk? That she was high? That she went to the party looking to have sex? That she made the first move? Would we say that Emma was asking for it? These are the questions that O'Neill asks her reader and they are not always easy ones to answer.
This is an extremely important book - I'd go so far as to say I think it should be required reading in schools and colleges for older teens and young adults. It tackles a very relevant issue in a brutal and unflinching way, questioning our current definition of consent, our definition of young women and their behaviour and our use of both social and traditional media streams. It's not an easy read and, on reflection, probably wasn't the best choice for my sunlounger; but it's such a vital one. There is no happily ever after in this novel - it will make you angry and so it should. It will make you question the way in which we deal with rape victims, the way in which the media portrays rape and the way in which social media responds to it. This book will get you talking about what remains a taboo area. So go away and read this and lets start having a long overdue conversation.
The Rocks by Peter Nicholls
Following the brutality and trauma of 'Asking For It', I thought something lighter was in order. So what better than a novel set on the sunny Mediterranean island of Mallorca, just a short hop from where my own sunlonger was situated? Turns out quite a lot of things would have been better than this which, I'm afraid to say, I found terribly dull (in addition to being both dull and terrible) and which almost became a DNF. Oh no! So, what exactly was the problem?
The novel begins with a confrontation and a mystery. Brits Gerald and Lula were briefly married in 1948. So what catastrophe caused them to separate on their honeymoon and not speak for sixty years, despite living on the same small island? And how does their shared history impact on the romance of their (unrelated) children years later? I hate to say it but, by the time I reached the conclusion to the mystery, I really didn't care. The plot, whilst ambitious, seems to sprawl without any clear sense of direction. Whole chapters turn into long, rambling accounts of a character's thoughts and deeds that later turn out to have no relevance at all to the plot at large. In addition, I found all of the characters to be so unbelievably vapid. The women are particularly irksome, being for the most part sex-crazed maniacs who like to lead the men in their lives around by the short and curlies. I found this characterisation at best laughable and, at it's worst, rather insulting. Oh, and did I mention that there's also a scene in which one of the main female characters seduces a 15 year old boy on her 80th birthday? Need I say more?
So, why the heck did I finish this novel? Well, it's partly because I really hate not finishing books and also because I won't review anything that I at least didn't give the courtesy of reading to the end. So does it have any redeeming features? Well, yes it does. The Mediterranean setting is very well realised and Nicholls does a good job of capturing the gentle undulations of life in the Balearic Islands. I also really liked Gerald's background story, with it's connections to Homer's 'Odyssey' - if only the 'The Rocks' had told this story in more depth rather than focus on his doomed romance with Lulu! All in all however, this was a bit of a dud for me. Needless to say my copy of 'The Rocks' got 'donated' to the hotel library in the hope that maybe someone else will enjoy it more than I did!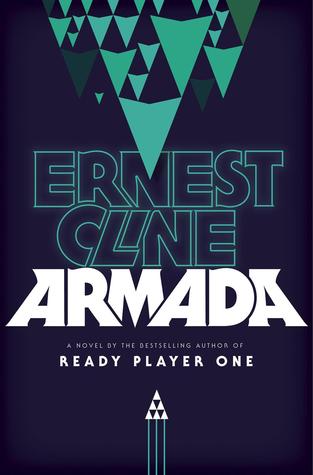 Armada by Ernest Kline
Following the disappointment of 'The Rocks', I wanted to read something that I knew I'd like. I adored Ernest Kline's last book 'Ready Player One' (reviewed here), which is a love letter to all things geek. His latest novel, 'Armada' offers more of the same but this time tackles the tropes and traditions of alien invasions.
Teenager Zack Lightman has spent his whole life dreaming of being whisked away on some life-altering adventure. Of becoming a little more like his heroic fighter pilot alter-ego in hit computer game 'Armada'. A little escapism never hurt anyone, right? Then Zack sees the space ship. The ship that is an exact replica of the ones he fights every night in his game. As impossible as it seems, Zack isn't going crazy. In fact, he's one of the many gamers who has been secretly trained by the Earth Defence Alliance to help defend the Earth against a growing threat. A threat that is now ready to invade...
I really enjoyed this book. It's not ground-breaking and it gleefully borrows tropes and ideas from throughout the whole of the science fiction genre. That said, it subverts and plays with a lot of them in a way that makes this book more than just an homage or pastiche of the existing canon. Although written in a very similar style to 'Ready Player One', this does manage to be a noticeably different sort of novel which I felt was slightly more adult in tone. In addition to being the story of an alien invasion, this is a wry coming of age tale about a kid who has to learn to stop playing, learn to trust his instincts and start taking control of his life. That said, I do feel that this novel is a little more niche than 'Ready Player One' - it does require a love of the sci-fi genre and of videogames to get all of the references and you've got to really enjoy Kline's chatty, eclectic writing style to stick with the book. For me, it really worked and I'd definitely recommend it to like-minded sci-fi and videogame nerds. For new readers however, maybe start with 'Ready Player One' and move on to 'Armada' if you enjoy that one.
Heirs to Forgotten Kingdoms by Gerard Russell
Having gorged on fiction, I wrapped up my holiday with some non-fiction reading in the form of Gerard Russell's timely and insightful 'Heirs to Forgotten Kingdoms', subtitled 'Journeys into the Disappearing Religions of the Middle East'. Despite it's reputation for religious intolerance, the Middle East has long sheltered many distinctive faiths, from a group that regards the Greek philosophers as incarnations of God to another that reveres Lucifer in the form of a peacock. These religions are the last vestiges of ancient civilizations - their worship dates back to the pharaohs of Egypt, the Byzantium conquest and the depths of the Persian empire. In 'Heirs to Forgotten Kingdoms', Gerard Russell, a former British diplomat with personal experience of the region, travels into the distant, and often near unreachable, regions of the Middle East to meet the people who follow these ancient beliefs and to see what impact the region's current instability is having on their communities and their faith.
I found this to be a fascinating book. More of a travelogue than an academic work, it is instantly readable and Russell does an excellent job of explaining the often complicated belief systems of each group he meets. More importantly, he focuses upon individual stories, giving a glimpse of the people behind the faith. In this way, he can bring in some of the more complicated aspects of theology, history and sociology whilst providing a human anchor to his narrative. Whilst it does not dwell too much on the current divisions that have made the Middle East such an unstable region, Russell's book does offer also offer a unique and timely reminder that religious dominance and persecution are nothing new and reflects on the varied ways in which minority religions have survived assimilation and persecution over the years, including the ways in which their followers are continuing to do so today. A fascinating subject that introduced me to a number of groups about which, in my ignorance, I had heard much but knew little. Insightful enough for the casual reader but with enough depth to provide a jumping off point for further study, I would recommend this to anyone interested in learning more about the Middle East and its people.
And that's it! 10 days of blissful reading joy (with the exception of 'The Rocks' but let's forget about that one!). Whilst on hols I also started Margaret Atwood's latest 'The Heart Goes Last' - which is AMAZING - but I haven't finished it yet so I'll include that one in my proper month end wrap up next weekend. As always, I'd love to know if you've read any of these books and, if so, what you thought of them. Or maybe you like the sound of one of them and are going to give it a try? Leave me a comment down below or tweet me @amyinstaffs to join in the conversation. And, until next time...