Before anyone says anything, I am aware that we are 12 days into October when I write this wrap up. All I can say by way of apology is that, following on from 10 blissful days of holiday, the return to the world of work and home has been...well, let's just say rather busy and leave it at that shall we. Needless to say, I didn't get too many books read when I got back from hols but I did read a couple before I went that weren't included in my last wrap up and finished one on my return. So without further ado, we begin with...
Arsenic For Tea by Robyn Stevens
The second in the 'Wells and Wong' YA mystery series (the first being 'Murder Most Unladylike', which I reviewed here) is another enjoyable romp into the 1930s, this time taking place in the classic country house setting of Fallingford Hall, Daisy Wells' home. Unfortunately for schoolgirl detective Daisy and her best friend Hazel Wong, murder seems to have a habit of following them around and it isn't long before they are embroiled in another mystery when one of their tea guests takes an unexpected turn for the worst. And, to make matters more complicated, it looks as if a member of Daisy's family might be one of the perpetrators...
Like the first book in the series, this was another fast-paced and fun read, although with some slightly darker undertones and a little more character development this time around. For those who have read 'Murder Most Unladylike', this is more of the same - definitely no bad thing when a series is this much fun. Whilst 'Arsenic For Tea' does a good job of introducing unfamiliar readers to the characters, I'd still recommend starting with 'Murder Most Unladylike' if you can - you'll have a better feel for the background and setting and enjoy this one more. A third in the series, 'First Class Murder', is on my too read pile and I hope there will be more to follow from this dynamic duo.
The Dumb House by John Burnside
There has been a great deal of talk about this novel on Booktube of late, with two of my favourite booktubers - Jen Campbell and Jean from Jean's Bookish Thoughts - raving about it. The premise is certainly intriguing - as a young boy Luke becomes obsessed with the story of the dumb house, an isolated mansion where babies are raised only by mute servants in an effort to discover whether language is innate. Determined to try and recreate the experiment himself, he becomes entwined with a strange woman and her mute son before taking in a young homeless girl, setting of a chain of events that eventually leads to murder, death and madness.
This is a difficult novel to love - it's dark and twisted in the extreme and Luke's head is an extremely unpleasant place to be most of the time. His attitude towards women is particularly abhorrent although, in fairness, he seems to view most creatures as being tools of his own whims and desires. That said, the writing in this is absolutely gorgeous, in sharp contrast to some of the content. Burnside has an expressive, poetic prose style that lingers in the brain and draws you back into his twisted tale like a moth to the flame. This is a dark and difficult book, filled with complicated morality and twisted actions but it is guaranteed to keep you thinking long after the final page has turned. If you like you beautiful literature to come with a shade of darkness and your morality tinted with shades of grey, this is one to check out.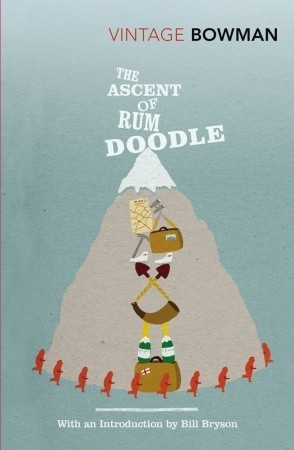 The Ascent of Rum Doodle by W E Bowman
And now for something completely different! My book group read for the month was light-hearted, funny and irreverent from beginning to end. Led by the reliably un-insightful Binder, a team of seven men set out to tackle to unconquered summit of Mount Rum Doodle. They have navigator who is constantly getting lost, a doctor who is perpetually ill and a diplomat who can't issue an instruction without starting a fight so what could possibly go wrong?
A parody of the classic mountaineering journals of the golden age of exploration, this is a gently humorous novel; albeit one that is starting to show its age somewhat. Written in the 1950s, some of the humour in the book is rather dated, especially that which relates to the native people who act as guides for the expedition who are given comedic names that, to modern readers, might seem in rather poor taste. Allowing for these few exceptions however, this book has the gentle humour of a classic Ealing comedy, good-natured and gently piercing. I wouldn't say I loved it but it certainly made me chortle more than once and I can honestly say I'm glad to have read it. Anyone who enjoys classic comedy would do well to check this out and, for anyone who enjoys climbing or mountaineering, the extra depth would probably add to the laughs to be had.
The Heart Goes Last by Margaret Atwood
I adore Margaret Atwood's writing and 'The Handmaid's Tale' is one of my all-time favourite novels. So imagine my delight to win a proof copy of this, her latest standalone novel and her first dystopian standalone since that illustrious book. Living in an America bought low by an all-too realistic economic crisis, Stan and Charmaine are reduced to living off scraps and sleeping in their car. So when they hear about the Positron Project, a utopian community that offers housing, food and work; it's like a dream come true. The catch? For each month that they spend in the community, they must spend a month in prison whilst another couple - their 'alternates' live in their house and go to their jobs. But when Stan and Charmaine become unwittingly embroiled with the lives of their alternates, the dark underbelly of Positron becomes exposed.
The inevitable comparisons to 'The Handmaid's Tale' do this novel little good. Whilst it is a dystopian novel from the same pen, this is an very different book in both tone and style. Shot through with dark humour (there's a series of prostitute Elvis robots, I kid you not) and her trademark wit, this is Atwood at her most wicked. She plays with her readers expectations as much as she plays with her characters, constantly twisting the narrative and melding the story into something new. Is this a cautionary morality tale? A meditation on the perils of greed? An examination of the nature of love? Having read it, I think it might be a little of all of them, shot through with twisted humour and a wicked sense of the absurd. At times I admit that there may be a little too much going in - Atwood gives her narrative too much of a free rein at times - and the plot can become a little slippery at times, without a sense of purpose to drive it forwards. But Atwood remains a masterful storyteller and soon rests control again, tightening things back up towards the end and leaving this reader satisfied and longing for more. Fans of Atwood will love this novel as long as they aren't expecting too much - go in looking for 'The Handmaid's Tale 2' and you will end up disappointed. But go in hoping for a bit of Atwood's trademark magic and a story to whisk you away and you will find an enjoyable, though-provoking novel with much to offer.
So that was September. A little late but we got there in the end. And with October's reading well underway, I should be back in the not-too-distant future with some more book-based banter, including some recommendations for spooky Halloween reads. Until then, you can find me @amyinstaffs on Twitter, or leave me a comment down below with any thoughts, recommendations and general bookish chat.